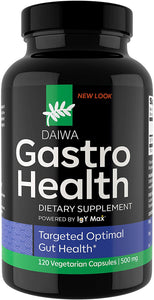 Daiwa Gastro Health 60 Vegetarian Capsules
*HEALTHY GUT SUPPLEMENT: Designed to support digestive health, Daiwa Gastro Health, powered by IgY Max digestion supplements improve the digestive balance to promote intestinal wellbeing naturally.
*DIGESTION AID: Boosts development of a healthy gut while fighting off non-beneficial gut offenders, the digestion support helps with bloating, gas and stomach discomfort.
IMMUNE BOOST: By reducing stress on the GI system, this support blend optimizes the body's immune defense system, promoting energy and maintaining a healthy inflammatory response.
---