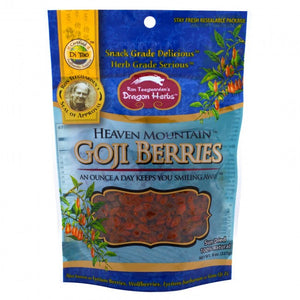 Dragon Herbs Goji Berries
The Ultimate Tonic "Super Fruit"
Millions of people throughout Asia consume Goji berries every day for both their unique, satisfying flavor, and for their health benefits. In China's first herbal encyclopedia, Shen Nong's Materia Medica, written in the 1st century B.C., Goji was classified as a "superior tonic," a class of herbs that people should take on an on-going basis to preserve youth and to promote general well being of life. Goji's superior tonic classification has stood the test of time. Two thousand years later, Goji berries are still being consumed regularly throughout Asian civilizations for those purported reasons. We now know that Goji berries are a "high-ORAC" antioxidant-rich superfruit featuring important phytochemicals such as beta-carotene, zeaxanthin, betaine, polysaccharides (LBPs), trace minerals and vitamins.
---