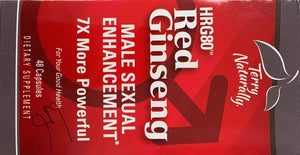 Improves Sexual Performance!*
HRG80 Ginseng: An Adaptogen for Libido and Performance*
HRG80 ginseng is different than any other ginseng available. It is specially grown and carefully tended in ideal, ultra-clean controlled conditions without pesticides, toxins, or processed with harsh solvents. This also increases levels of the herb's powerful compounds, called noble ginsenosides, at the same time.
In fact, in HRG80 ginseng, 80 percent of the ginsenosides are rare, noble ginsenosides.
That means more support for male sexual enhancement than you'd find with conventionally-grown ginseng that is generally low in absorbable, noble ginsenosides and potentially high in toxins, pesticides, and heavy metals.*
A Botanical Blend for Nitric Oxide (NO) Production*
This formula also includes an award-winning botanical blend that supports the production of nitric oxide—the body's "on switch" for healthy blood flow and circulation.
A clinical study found that this blend supported a significant improvement in sexual function in 74 percent of men over age 45.*  
---