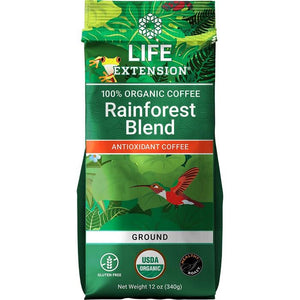 Life Extension Rainforest Blend Ground Coffee 12 oz
HealthyRoast coffee-roasting process
Our Rainforest Blend is made using a patented, 100% natural process called HealthyRoast, which helps to preserve the naturally occurring antioxidant polyphenols. Plus, the HealthyRoast process retains the natural compounds found in the coffee beans that protect the stomach from distress.
Sourced from verdant tropical climates
Handpicked deep in the rainforests of Latin America, Life Extension's Rainforest Blend consists of 100% USDA-certified organic Arabica coffee beans, prepared in small batches and expertly ground for your convenience.
Available caffeinated or decaf…Taste the difference.
100% organic Arabica coffee beans
---