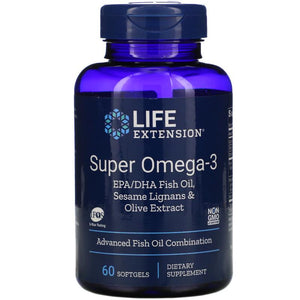 Super Omega-3 EPA/DHA Fish Oil,
EPA and DHA fatty acids from fish oil support cardiovascular health, brain health, and much more. Inspired by the Mediterranean diet, our Super Omega-3 delivers the EPA and DHA omega-3 fatty acids your body needs, plus potent olive polyphenols and sesame lignans for additional cardiovascular, cognitive, and whole-body health benefits.
Supports both cardiovascular and cognitive health
Helps maintain already-healthy LDL & HDL cholesterol & triglyceride levels
Contains heart-healthy Mediterranean olive & sesame extracts
IFOS™-certified and sustainably-sourced anchovy from the South Pacific coast of Chile
Super Omega-3 EPA/DHA Fish Oil, Sesame Lignans & Olive Extract is made with Pure, a wild fish oil concentrate derived from South Pacific Ocean anchovy. Processed in Chile within hours of harvest, you can be confident that you're getting an exceptionally fresh fish oil formula.
Super Omega-3 EPA/DHA is our best-selling omega-3 fish oil supplement. It delivers an optimal dose of EPA and DHA omega-3 fatty acids. Inspired by the heart-healthy Mediterranean diet, Super Omega-3 also contains potent olive polyphenols and sesame lignans for additional health benefits.
The Mediterranean diet, in which extra virgin olive oil and seafood are staples, is associated with heart health and an increased life span. This healthy diet inspired us to combine a pure, highly concentrated fish oil with sesame lignans and unique polyphenols from olive extract.
Other benefits of fish oil omega-3s
Omega-3 fatty acids support healthy heart and blood vessel function, promote blood flow, help maintain already-healthy blood pressure, and help inhibit inflammatory factors to support whole body health.
These essential fats also help maintain already-healthy LDL and HDL cholesterol and triglyceride levels. Omega-3 supplementation has been shown to encourage healthy cognitive function, support mood health, and promote longevity.
---